Los Angeles Times

November 18th 1996

Elegance and Strength Fill "Moments" of Lisa K. Lock

by Victoria Looseleaf

The one-person show, though sometimes steeped in bloated confessionals, is popular theater fare. With dance, however, a solo evening can prove problematic because of stamina. Dancer-Choreographer Lisa K. Lock, whose solo program "Collected Moments" was on view at LACE Friday night, demonstrated the opposite: Edgy and powerful, Lock's middle initial might very well stand for kinetic.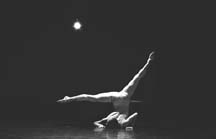 Lock, classically trained, used her exceedingly long limbs to great effect, displaying rippling muscles with sculptural style to spare in three works new to her repertory and three familiar (and previously reviewed) pieces.
In "Human-Huwoman," Klaus Nomi's quasi-baroque score meshed with Lock's choreography, with the dancer patting herself on the back before veering into parody-dying swan and balletic spin territory.
Lock's close cropped hair and anguished eyes completed the picture, while her work-boot pointe moves brought to mind tap guru Savion Glover.
Winifred R. Harris' piece "Behind my Back in Front of My Face," choreographed to a slice of Henryck Gorecki's redemptive Third symphony, is by nature, elegiac. Lock displayed limitless elegance, whether rising on bare toes, writhing on the floor, executing a frenzy of leaps or holding an an invisible mirror to reflect the world's sorrow.
Patrick Frantz's "Luange(Praise)," had Lock in ballet shoes draped in a red banner, dipping, turning and holding impossibly beautiful poses to Olivier Messiaen's score, with a dramatic ending in which Lock was pulled from stage while lying on the sash.
To see Lock smile at the evening's end was nearly as refreshing as witnessing her earlier muscular finesse.